Communication – Covid-19
For immediate release
IMPORTANT – COVID-19 INSTRUCTIONS – UPDATE April 12, 2021
To minimize the risk of contagion, you must comply with the health instructions issued by the Government of Quebec on the resumption of sports and leisure activities. In addition to the health instructions in force, you must also inform yourself before your exit on the trail of the health measures issued by the Government. If you are worried about COVID ‑ 19 or if you are showing symptoms, visit the Government of Quebec website and stay home.
NEW MESURES IN FORCE
Here is a supplement to the information concerning the health measures specific to the leisure and sport sector communicated on April 6, 2021 by the Prime Minister, Mr. François Legault. These new instructions have been in effect since April 8, 2021.
Curfew
Red and orange zones
Between 9:30 p.m. and 5 a.m., it is forbidden for anyone to be outside their place of residence or its grounds, except in the case of exceptions. The curfew will be from 8 p.m. to 5 a.m. in Montreal and Laval as of April 11.
Wearing a mask or face covering
When the distance of 2 meters cannot be respected, at all times and for the entire duration of an activity, when two or more people are present who do not reside at the same address, in particular during group activities inherent in the practice of a leisure activity and a sport, the wearing of a face cover or an intervention mask is compulsory for people 10 years of age and over, both indoors and outdoors. *
* However, this does not apply to pupil activities in primary school yards, as previously excluded.
Activities practiced in an outdoor place
Emergency measures and red zones
Contactless activity practiced alone, in pairs, with occupants of the same residence or in a group of up to 8 people, plus a person responsible for supervision or framing.
The sanitary facilities can remain open.
Interregional travel is not recommended. The P'tit Train du Nord passes through different regions and you must adhere to the inter-region travel guidelines put in place to curb the spread.
The following services and activities remain permitted:
The free practice of outdoor activity alone or in a family bubble (even in regional parks and organized places) is permitted.
Tourist accommodation is still permitted for family bubbles.
Relays with catering are permitted with take-out only.
PRECAUTIONS TO FOLLOW WHEN YOU VISIT ON THE P'TIT TRAIN DU NORD
In order to preserve the health and safety of all P'tit Train du Nord users, we ask you to respect the standards issued by the government:
Wash your hands regularly;
Respect a distance of two meters between users;
Wearing a mask is compulsory in closed public places;
Avoid all gatherings at rest stops or on the track;
There is no place to change or warm up inside, you must be independent to practice your activity;
Ride carefully and adapt your sport to the conditions. In today's environment, let's avoid risky practices and hospital visits;
Keep your distance from other users at all times, especially when the pace slows when approaching intersections;
When approaching a group that you want to pass, make your intentions known and give warning when you pass;
You have to remember to move around independently: water, soap, disinfectant, lunch or know which restaurants are open;
Bring back your rubbish, your tissues. Do not throw anything on the ground;
In these special times, one has to be kind, courteous and patient.
Suspension and temporary closure of services
For the moment, the health services remain accessible (except exceptions).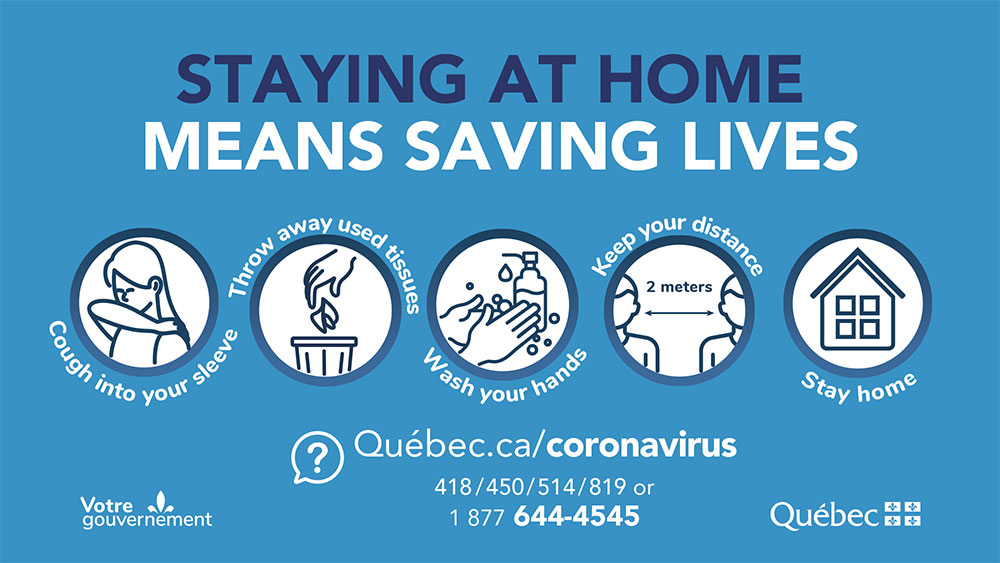 Please keep in mind, that in the days and weeks to come, during the freezing and thawing period, it will be important not to walk/use the Linear Park!
Thank you for your cooperation!
Together, we can pull through this! And when life gets back to normal, each of us will embrace summer in all of its beauty. We can't wait to see you on le P'tit Train du Nord, riding, jogging, taking walks with your spouse, family members, friends.
And hopefully very soon!
Until then, let's wish each and everyone of us to stay healthy and safe!
Why not take advantage of this temporary halt to dream about your next excursions on le P'tit Train du Nord.
See you soon!
Team le P'tit Train du Nord Linear Park