IMPORTANT – COVID-19 INSTRUCTIONS
To minimize the risk of contagion, cyclists must comply with health directives issued by the Government of Quebec, which could change as the situation evolves.
It is possible for you to go out with family or a group of friends while respecting the distance of 2 meters between you.
In addition to the health directives in force, visitors must also respect the instructions relating to their movement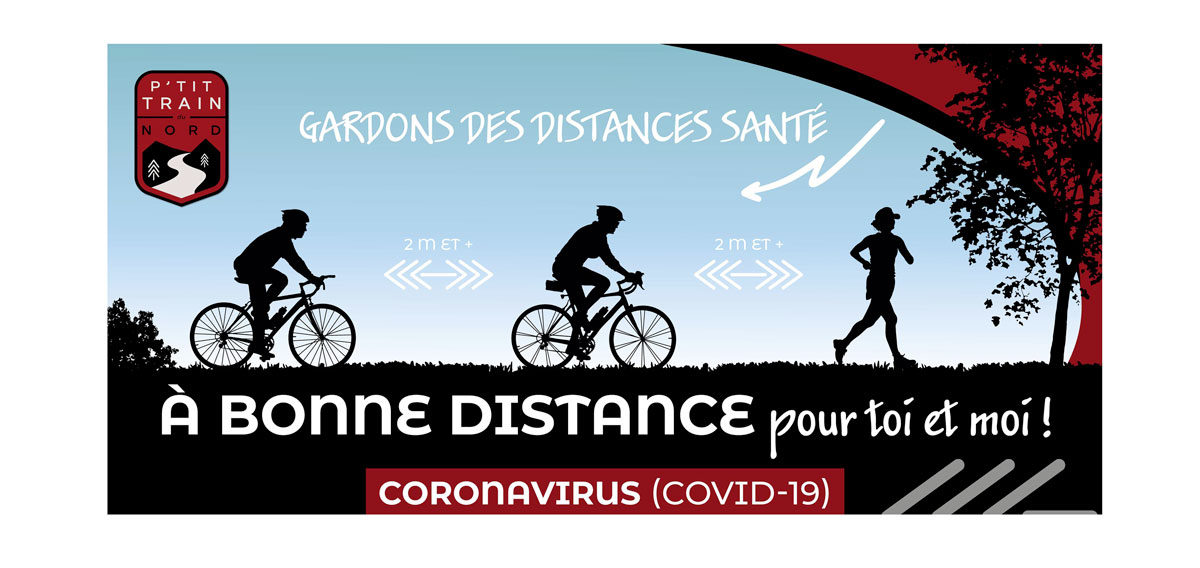 Let's keep a healthy distance – A safe distance for you and me!


Safety Measures to Follow When Going out on the P'Tit Train Du Nord
To ensure the health and safety of all users of the cycling network, we kindly ask that you respect the following government-issued safety guidelines:
• Wash your hands regularly;
• Respect a 2-meter distance between users;
• Avoid gathering in rest areas or on the cycle path;
• Wearing a mask is not mandatory during the activity, but is strongly recommended in meeting areas such as in the parking lot, at the entrance to trails, at the shop, etc.
Temporary Closures and Suspension of Services to Cyclists

In order to prevent the spread of the virus and protect the entire population, certain services generally offered to users may be closed until further notice:
Rest stops and all equipment;
Water points
Gradual opening of facilities
Provide the necessary personnel for sanitary hygiene.
Gradual opening of sanitary facilities (BS = sanitary block, DT = dry toilet, TC = chemical toilet);
Open 🚽✅:
Saint-Jérôme – BS- Old Saint-Jérôme station
Blainville – BS – Chalet in Maurice-Tessier park
Piedmont BS- Piedmont station
Sainte-Adèle BS – Sainte-Adèle station
Val-Morin – BS – Val-Morin station
Val-David BS – Val-David station
Sainte-Agathe TS- Sainte-Adèle station
Saint-Faustin-Lac-Carré – Station and pisciculture BS
Mont-Tremblant – Parc des Voyageurs BS- Place de la Gare BS- Plage du Lac Mercier BS
Labelle – BS – Labelle station
Rivière-Rouge – BS – Rivière-Rouge station
Nominingue – BS – Nominingue Station
Between La Macaza (km 114) and Mont-Laurier (km201) – DT (12 dry toilets are installed on the 88 km)
During Your Cycling Tour
Keep a 2-meter distance between cyclists and you, unless you ride with people in the same household. Although keeping a 2-meter distance is not always possible between cyclists who cross or pass one another, given the short span of time and the fact that cyclists are outside, the risk of contamination is low.
• At stops, keep a safe 2-meter distance between path users;
• Ride safely and in a predictable way, respecting the Highway Safety Code and using appropriate signaling when turning;
• Be careful and keep informed with road conditions. With the present context, avoid risky practices that could lead to hospital visits;
• Avoid cycling abreast with another person when you are traveling on a narrow or busy multi-use track or path;
• Always keep a safe distance from other users, especially as the pace slows, when approaching intersections;
• When planning on stopping or taking a break, choose an area off the side of the path, in order not to block traffic and to keep a safe distance.
• When getting closer to a group or cyclists you want to pass, make sure your intentions are clear and signal them that you are going to pass, but only if you have room to do so. Otherwise, wait for the right moment to overtake the cyclists ahead of you;
• Be courteous and patient, keep in mind that new cyclists will be using the trail. Some are beginners, others are not familiar with all the rules;
• You should think about traveling autonomously: bring water, soap, disinfectant, paper tissues and towels, lunch or be informed of restaurants that are open, also bring a bag to put your waste in.
Partners of the P'tit Train du Nord
Planning on going on an adventure on the P'tit Train du Nord? Several of our partners are still operating. However, due to the COVID-19 situation, some of our partners have interrupted their services and are temporarily closed, check opening hours in advance or call them before traveling.
IMPORTANT: In addition to respecting the health measures, the P'tit Train du Nord code of conduct remains in effect:

• The recommended speed is 22 km / h;
• Ride in line when you are in a group;
• Announce your passing and overturns! Ring, ring;
• Cycle on the right and pass on the left;
• Wearing a helmet is recommended;
• Between sunset and sunrise, the trail is not patrolled and not lit. Therefore, evening traffic is not recommended;
• Access to communication networks can be difficult in remote areas.
Not Allowed on the Track

• Pets, except guide and assistance dogs;
• Motor vehicles;
• Electric scooters;
• Electrically assisted bikes are allowed if they are equipped with functional pedals.
This information comes from the Code of Conduct for Cyclists during the Pandemic prepared by Vélo Québec according to the health measures issued by the Government of Québec.
See you soon!
Team le P'tit Train du Nord Linear Park