A Great North American Off-Road Bike Trip With a Father and Son
The P'tit Train du Nord in Quebec is a wonderfully civilized cycling experience. It was even better going with my 9-year-old.
I had lost sight of my 9-year-old son about a half-mile down the road. Pulling over to the side of the P'tit Train du Nord, a bike path that penetrates deep into Quebec's Laurentian Mountains, I had paused to take a photo of a meander in the Rivière du Nord. When I pedaled around a sharp bend five minutes later, I saw Desmond on his hands and knees, face down on the gravel.
"Dad!" shouted Dez, jumping to his feet. A speckled face poked out from his cupped palms. "I found a frog!"
After finding that no blood had been spilled, I paused to take the hapless toad's portrait. It was a reminder that, on any father-son bike trip, competing desires have to be taken into account. The grown-up will vainly make the case for a three-course meal at that highly rated trailside bistro, while the kid, content to run on Gatorade and Clif bars, will militate for pit stops at playgrounds and amphibian-friendly bogs.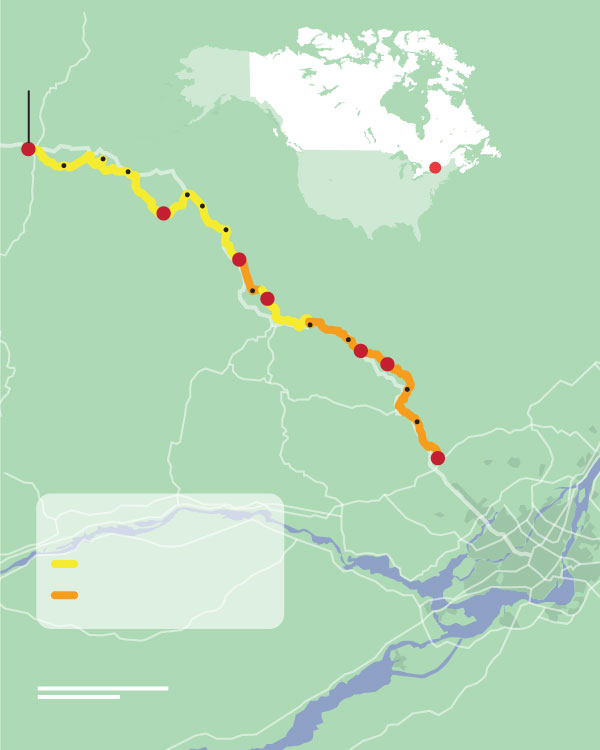 The P'tit Train du Nord, a retired train line that has been converted into a four-season bicycle and cross-country-ski trail, is one of North America's great off-road cycling experiences—and arguably its most civilized. The original rail line was built between 1876 and 1909, and part of the trail's charm is the way its Queen Anne and Gothic revival-style whistle-stops have been repurposed into service centers, with charging stations for electric bikes, stands with tire pumps and tools for quick repairs, and water fountains and restrooms. A few even have full-service restaurants.
I rode it for the first time last summer, when I decided to get to a cottage we had rented north of Montreal by bicycle. It proved to be a long, hot ride, with the last stretch, along the sun-baked shoulder of a logging road, made particularly stressful by the proximity of rushing 18-wheelers. My family had preceded me in a car, and I was greeted by Dez, his younger brother, Victor, and their mother on the cottage's dock, where I ended the ride by flinging aside my dusty Bianchi and cannonballing into a chilly mountain lake.
But the first 30 miles, before the busy highway, had been along the P'tit Train du Nord, and that part of the ride was a revelation. Originally built for the iron wheels of trains, rather than the rubber tires of cars, the route was engineered with a maximum gradient of a thigh-coddling 4%. And there was something about getting to a cottage along a serpentine, tree-shaded corridor that made me fall in love with the Quebec countryside all over again. Since then, Dez and I had gone for several day trips on the trail, which was inaugurated 15 years after the last passenger train ran in 1981. An intrepid rider, he was proud of extending his range to 40 miles a day. This time, we hoped to do the trail from start to finish, overnighting in the bed-and-breakfasts we had seen signposted along the way.
We had started that morning by hoisting our bikes aboard a commuter train at a station a few blocks from our apartment. (Bikes can be brought aboard Montreal's EXO train network free of charge.) We watched backyard swimming pools give way to cornfields, and after 40 minutes, reached the last stop, and the beginning of the trail, in St.-Jérôme.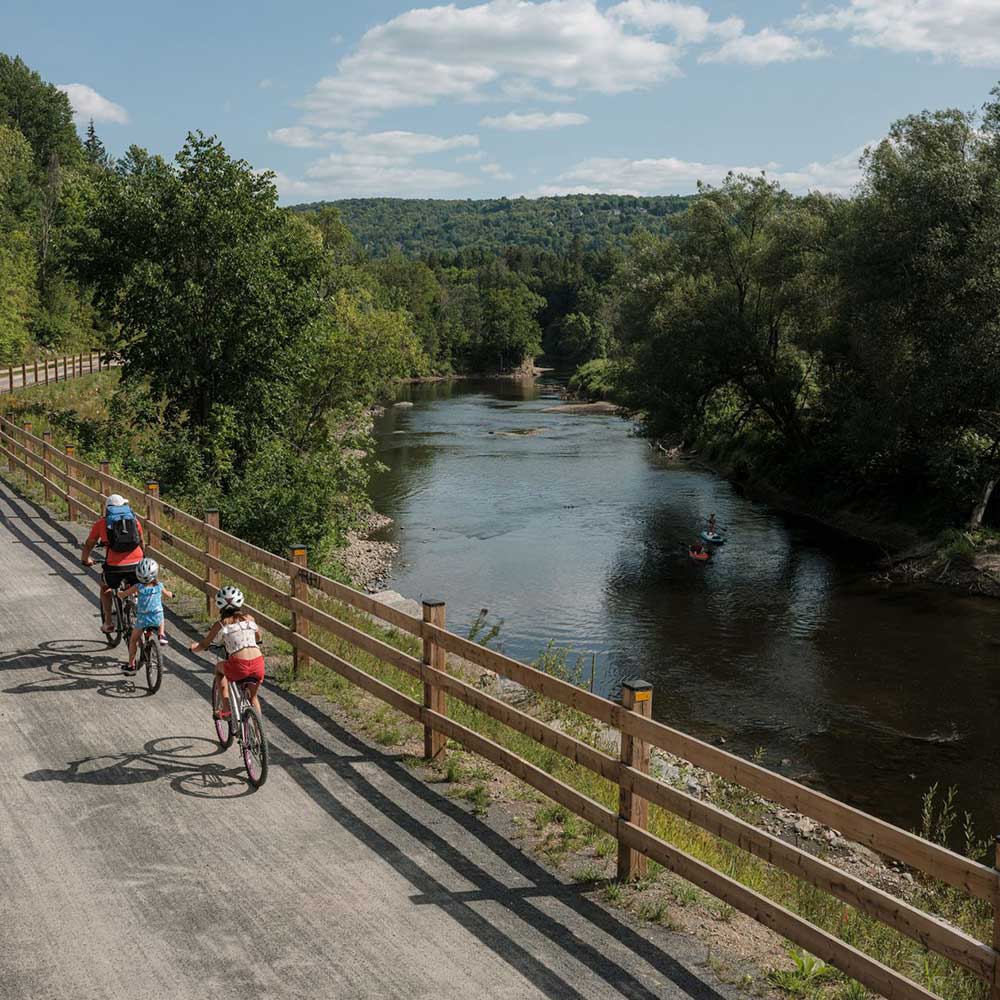 Bikers on the P'tit Train du Nord trail along the Rivière du Nord.
PHOTO: ALEXI HOBBS FOR THE WALL STREET JOURNAL
St.-Jérôme is also the starting point for a shuttle that takes cyclists and their bikes to the end of the trail at Mont-Laurier; some riders opt for a leisurely, mostly downhill ride back toward Montreal. Dez and I decided a real adventure involved tackling the trail all the way to Mont-Laurier—rather than just coasting home. But that meant we were going to be doing the P'tit Train the hard way: at least two full days of pedaling, most of it uphill.
It started off easily enough. The sky was blue, temperature in the high 70s, and every four or five minutes, another black-and-burgundy milepost—or, this being the realm of metric, kilometer marker—flashed past. At Kilometer 5, we paused to clamber over the rocks overlooking the churning rapids on the Rivière du Nord, running higher that day than we had ever seen it. At Kilometer 25, we decided to stop for lunch on the terrace of the Café de la Gare in the old Mont-Rolland station at Ste.-Adèle. (Watch out for Le Mapache, a pit stop for artisanal beers and tacos at the Val-Morin Station, and the railway museum in the Labelle Station.)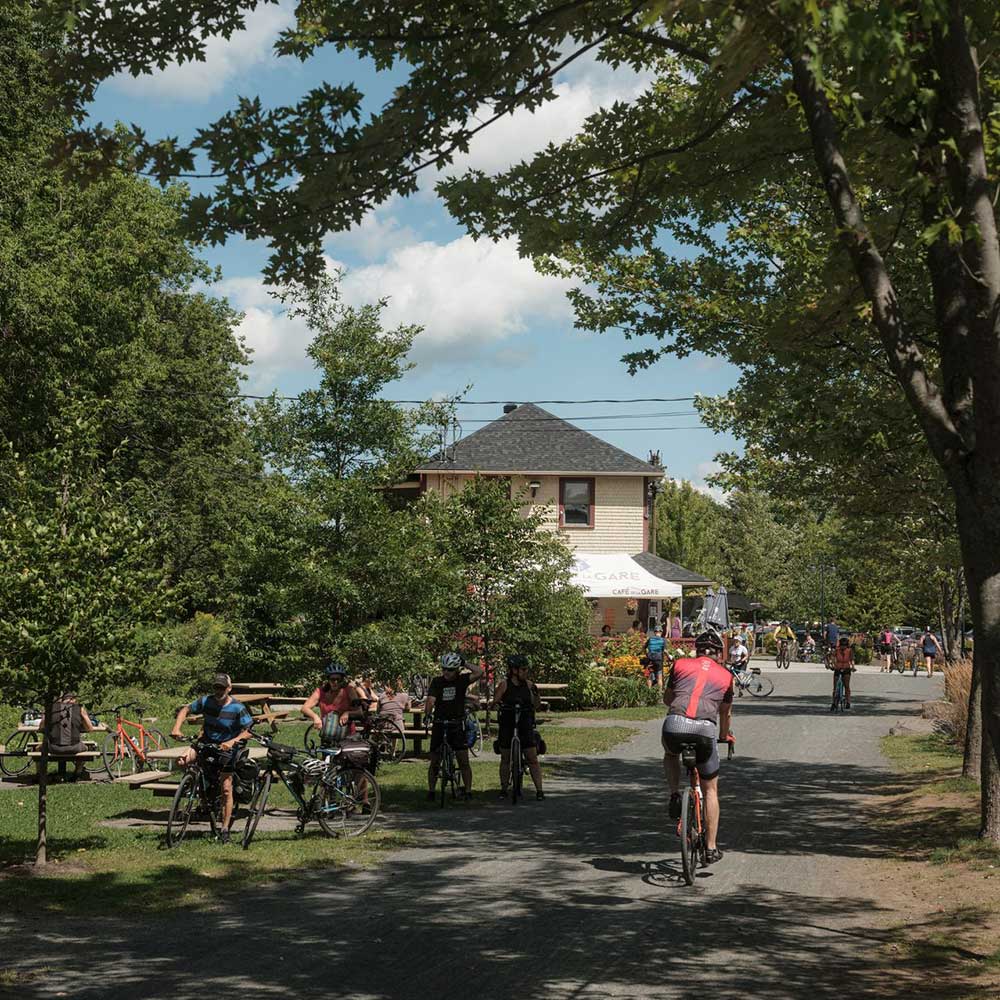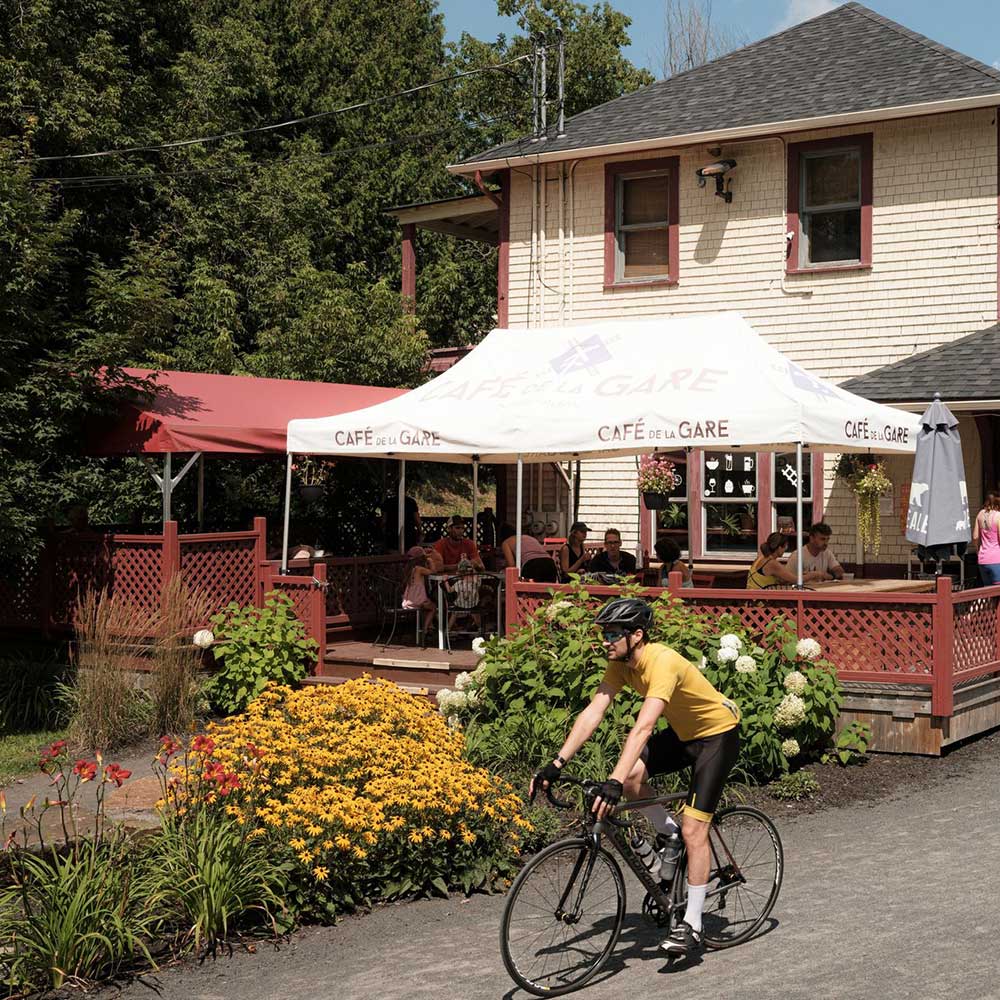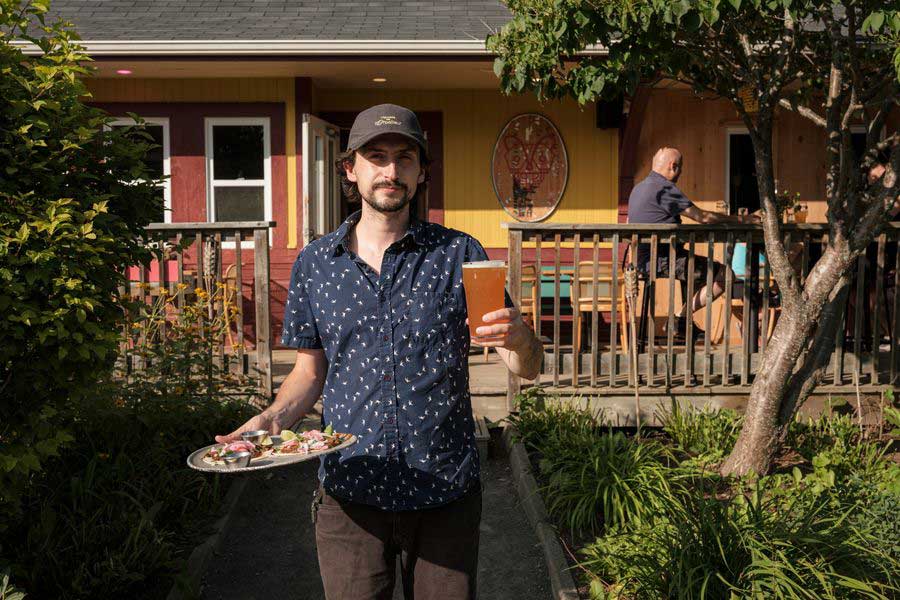 Top: The scene approaching and at the Café de la Gare in the old Mont-Rolland station at Ste.-Adèle, Quebec, along the P'tit Train du Nord trail. Above: A server at the trailside Le Mapache restaurant in Val-Morin.PHOTOS: ALEXI HOBBS FOR THE WALL STREET JOURNAL(3)
Fueled up with grilled cheese, a veggie burger and Greek salad, we faced our first challenge: the trail's longest uphill stretch, beginning at Val-Morin. After 20 miles, Dez was visibly losing steam, but a woman at the Ste.-Agathe-des-Monts station told us that soon enough, the trail would turn back to asphalt and start to go downhill. It did—eventually—but it was well after 7 p.m. before we rolled up to our bed-and-breakfast.
Les Jardins de l'Achillée Millefeuille was exactly what I had been hoping for: a quirky enclave nestled in the woods, just a dozen yards off the trail. We were greeted by a black cat called Vanille, chickens running free among Adirondack chairs, and bees buzzing in the owners' lavish garden, which supplies the herbs and berries that go into the teas, soaps and potpourris offered in the rooms. Dez, who prefers his lodgings modern, was less impressed, though he acknowledged the next morning's breakfast of fresh-laid eggs, homemade berry muffins and coconut "energy balls" was good preparation for a long day's ride.
We needed those calories. The second day's ride felt more like a deep plunge into the northern wilderness. As sugar maples and wildflowers gave way to Norway spruce and carpets of lichen, we crisscrossed the Rivière Rouge, glimpsing roe deer browsing knee-deep in flooded forests. Given the distance between stations, I began to worry about what would happen if we had a breakdown, or worse. The weather app on my phone showed clouds-and-lightning icons; the Laurentians are notoriously prone to torrential downpours and flash floods.
In truth, though, we were never far from help. I chatted with a trio of teenagers in red jerseys with white crosses on their sleeves; they explained they were part of the official Patrouille du P'tit Train, which patrols the trail on mountain bikes, enforcing the rules and offering medical aid and roadside repairs.
After a quick lunch at a lakeside snack bar in the village of Nominingue, Dez got serious about logging some miles. The fact that midsummer in the upper Laurentians is bug season kept us motivated; as soon as we dared slow down, deer flies descended on us. Dez discovered that, if we pedaled at a minimum of 10 miles an hour, we would remain ahead of the swarm, and just about bite-free.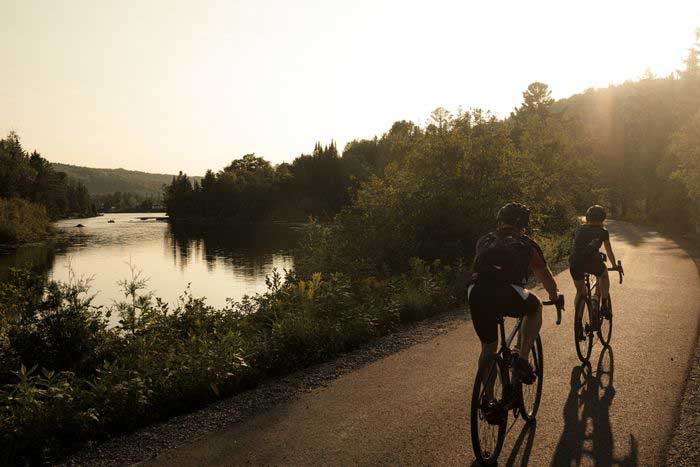 Additional motivation came from the cheers of the cyclists heading in the opposite direction. The Montreal Canadiens were playing the Tampa Bay Lightning in the Stanley Cup Finals that week, and every few miles someone would catch sight of the Canadiens logo on Dez's jersey and yell: "Go, Habs, Go!" This, I realized, was another reason he was pedaling so hard: He wanted to get to Mont-Laurier in time to watch the game. The last dozen miles, most of them downhill, felt like a triumph. It had taken an entire bottle of sunscreen, about a thousand verses of "99 Bottles of Beer on the Wall" and enough Gatorade to stain Dez's tongue blue, but we had made it. We posed for selfies in front of the milepost at Kilometer 201 outside the old Mont-Laurier station, official terminus of the P'tit Train, and then checked into our hotel—one I had made sure had a TV in every room—in time to order a pizza and settle in for Game 4.
The Canadiens won 3-2 that night, and though the Lightning would go on to take the Cup, the consensus was that Montreal had had a pretty good run.
As we loaded our bikes on the trailer of the shuttle bus that would take us back to St.-Jérôme the following morning, Dez and I decided that, by conquering the P'tit Train du Nord, we'd had an even better one.
Mr. Grescoe (@grescoe) is a writer in Quebec. He can be reached at reports@wsj.com.