ATTENTION – Work
September 19, 2023- The MRC d'Antoine-Labelle (MRCAL) announces culvert replacement and deck replacement work on the P'tit Train du Nord linear park (PTDN) in the Mont-Laurier, Lac-Saguay and Nominingue sectors.
September 25 to October 4 (asphalt as of Oct. 19) = culverts located at KM 154, so road closure from KM 151 to 155;
4 to 6 October (asphalt from 19 Oct) = culvert at KM 159, land closure from 155 to 161.5;
10 to 18 Oct (asphalt from 19 Oct) = culverts at KM 196, land closure from 195.75 to 197.25.
Users and workers are asked to respect the signs to ensure everyone's safety.
A shuttle bus will be available to cross the work zones (see schedule below).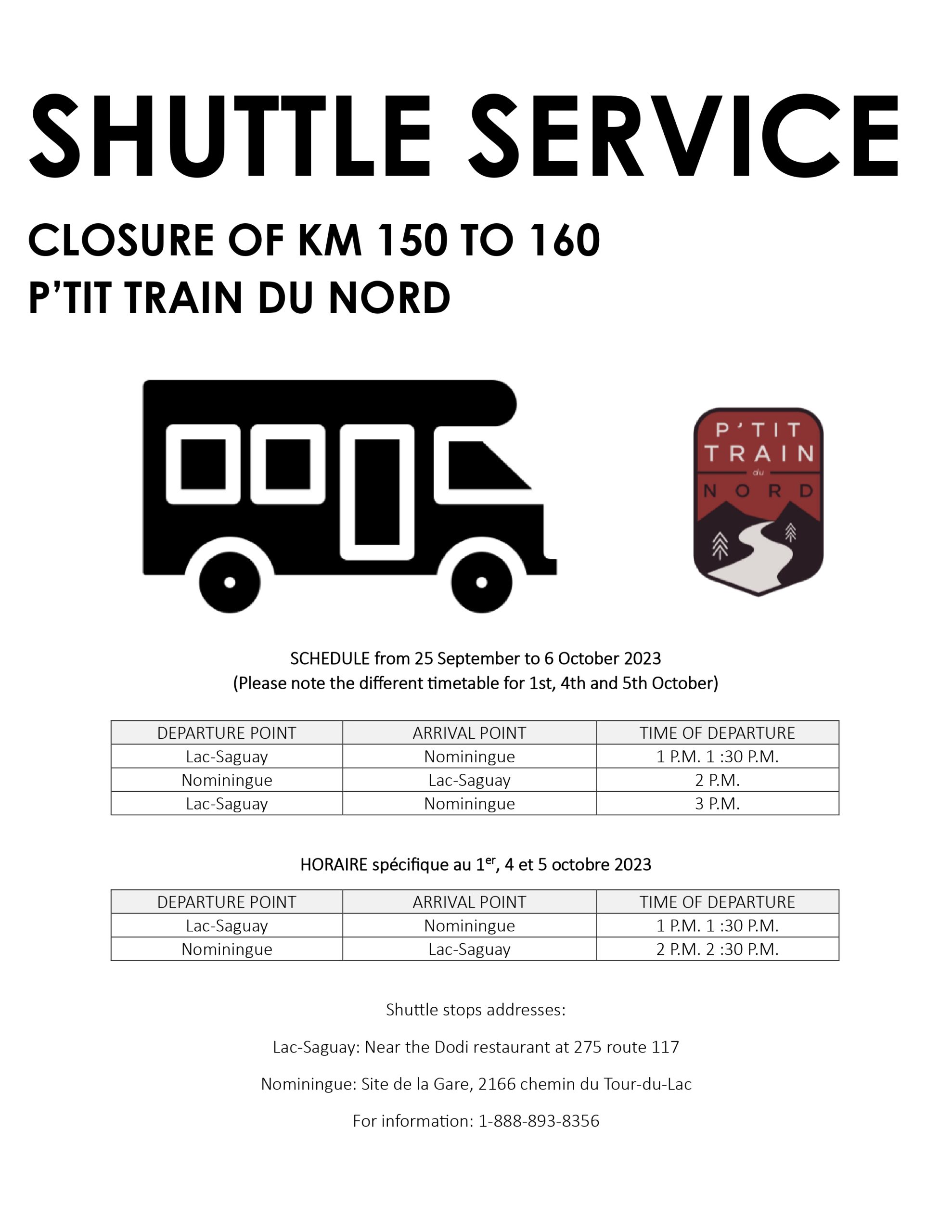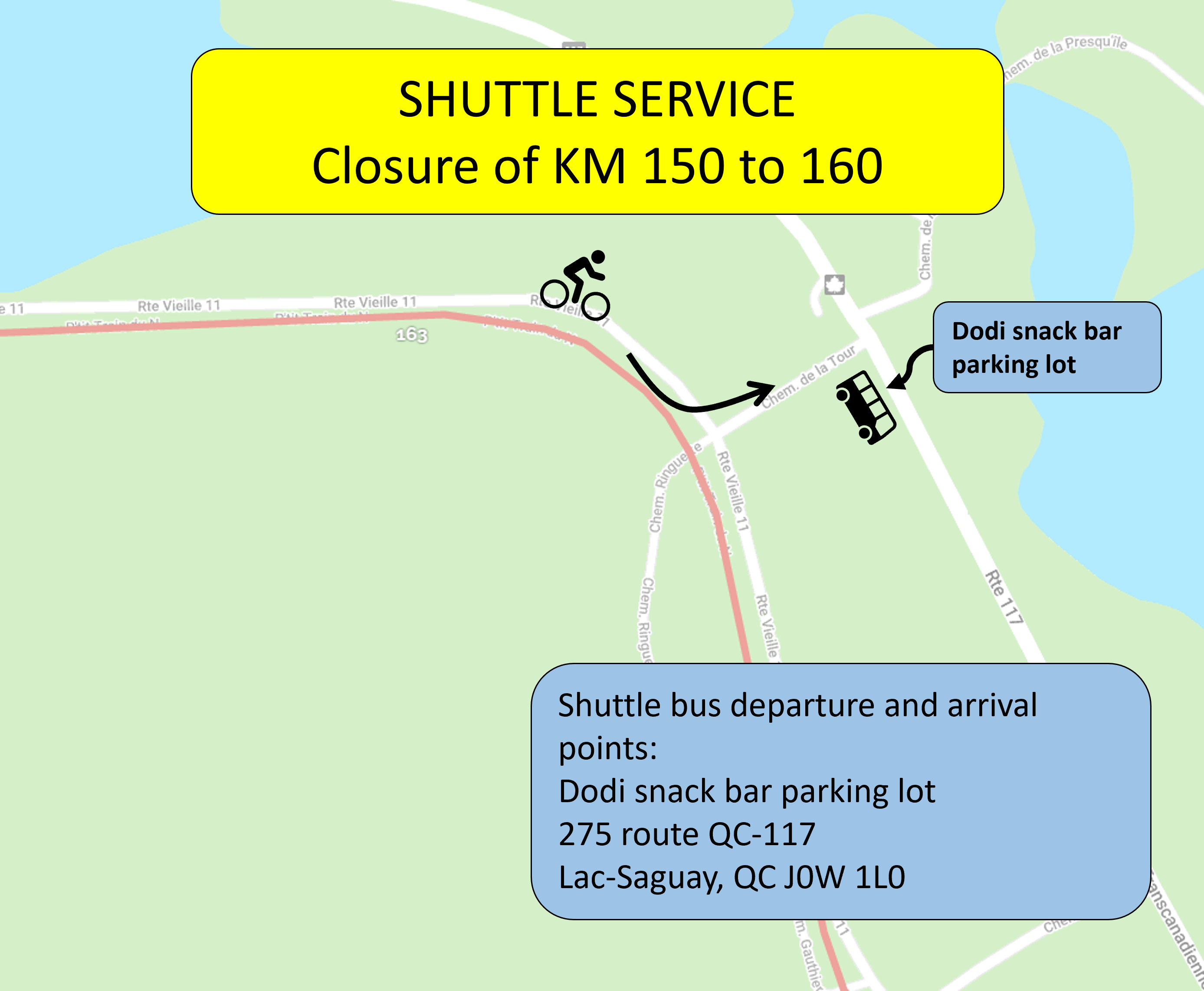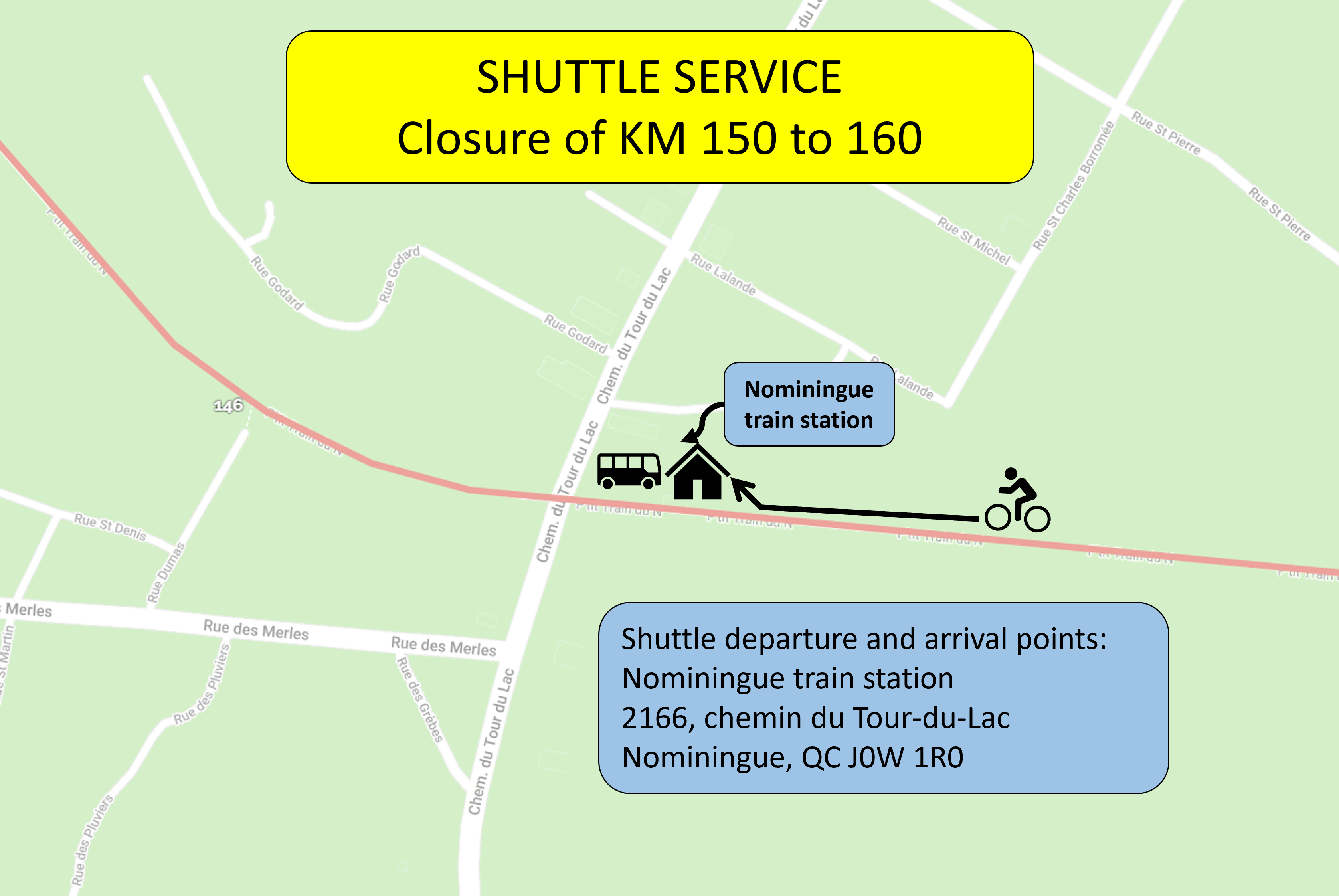 September 1, 2023- Good news!
❤️ Reopening of the section of the P'tit Train du Nord trail linking the two main urban centres between km 52 and 70 of Ville de Sainte-Agathe-des-Monts – and Municipalité de Mont-Blanc.❤️
In conjunction with the MRC des Laurentides, we are delighted to announce the reopening of this section of line!
Congratulations and thanks to the MRC team for managing, coordinating and executing the work!
Here's the press release issued by the MRC des Laurentides: :://ptittraindunord.com/reouverture-du-ptit-train-du-nord-entre-sainte-agathe-des-monts-et-mont-blanc/
Please follow our code of conduct:
Smile and courtesy are required
FOR THE BIKE:
-Recommended speed is 22 km/h and 10 km/h when approaching urban areas;
-Ride in line when in a group;
-Please call out when passing! Dring, dring!
-Ride on the right and pass on the left;
-Clear the path when stopping;
-Wearing a helmet is recommended, you have such a beautiful head!
-When the trail is closed, it is important not to ride in the rock dust areas so as not to create permanent grooves;
FOR WALKING AND RUNNING:
-Ride on the side of the trail in the same direction as the cyclists ( on the right side of the trail) and always ride in line to give way to the bikes;
-Clear the path when stopping;
-Your pet is not allowed on the trail for their safety and that of other users;
-To hear the bikes, it is important to listen actively to the ambient noise. Avoid headphones.
Have a good start of the season!