The P'tit Train du Nord offers advantages that few ski resorts can match.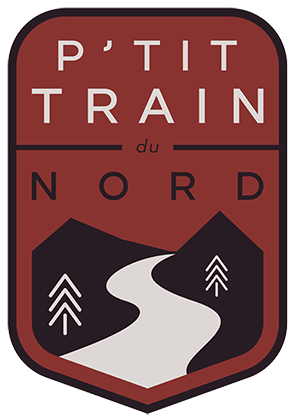 NEW!  Winter activities are free for Saint-Jérôme to Val-David sectors
An incline of barely 5% is ideal for long-distance training, for beginners or to get back in shape;
Absence of vegetation canopy renders trail surface conditions homogeneous;
Waxing facilities, refuges, cafés, lodges and microbreweries allow preparing adequately, warm up or simply have a good time;
Try active transport to the workplace on skis! The trail threads through numerous towns down to Saint-Jérôme where the university, CEGEP or even your workplace are a stone throw from the trail;
Public transit is also a possibility with commuter trains and bus service on board which skis are allowed.
Cross-country skiing is possible in two distinct sectors: The Mont-Tremblant sector and the sector between Saint-Jérôme and Val David.
Waxing facilities are present at the train station of Piedmont and Sainte-Adèle. See the cross-country map.You will find various refuges, train stations and cafés on the trail to warm up and for "après ski".
Saint-Jérôme to Val-David sector
(between km 0 and 44,4):
2 Mechanically tracked corridors for classic cross-country skiing
1 Mechanically groomed central corridor for skate skiing
1 Mechanically tracked corridor for walkers and fatbikes on the west side of the trail
DO NOT WALK AND RIDE IN THE CENTER OF THE TRAIL. Follow the corridors indicated on the signs. Courtesy is required.
No pets allowed except for service dogs
For more information, go to the rest stop at km 14 at the Prévost  station.
A waxing room is available at the Piedmont and Sainte-Adèle train stations. See cross-country ski map:
You will find on the trail various refuges, stations and cafés to warm up and for après-ski.
During the summer, roller skiing is permitted before 10 a.m. and after 6 p.m. on the entire Le P'tit Train du Nord linear park.
Mont-Tremblant Sector
(between km 70,5 and 99,3)
(between the Saint-Faustin train station at km 70.5 and km 99.3 north of the Lac Mercier train station):
Central corridor mechanically groomed for classic and skate skiing, fatbike and walking.
2 corridors traced for classic cross-country skiing on the sides
No pets allowed except for service dogs
Les chiens-guides et d'assistance sont les bienvenus sur le Parc linéaire le P'tit Train du Nord