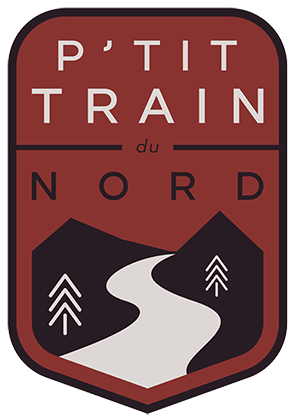 Sainte-Adèle (Sainte-Marguerite Station) KM 33
45.99013399 N, -74.11769629 O, Altitude: 284 meters
Behold the "Coupe-de-Pierre", two large rocky walls on either side of the cycling trail.
You can hear the rapids and spot the Rivière du Nord in one of it's most raging parts.
Read more ...
Nearby you will find lodges, groceries, and restaurants for a well-deserved halt.
Interpretation panels will inform you of the history of the railroad that has now become this beautiful linear park since 1996.

MRC des Pays-d'en-Haut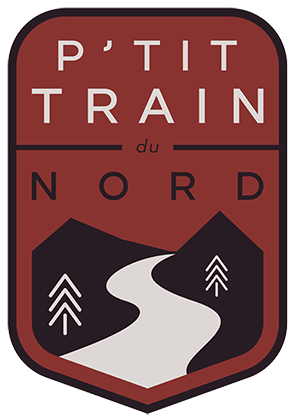 Sainte-Adèle (Mont-Rolland) KM 25
45.94040703 N, -74.11879063 O, Altitude: 199 meters
Alongways you will come across the junction of the Doncaster river and the Rivière du Nord. Via the iron bridge, you will cross the latter in a magical setting.
Read more ...
The welcoming Sainte-Adèle train station is a mandatory halt. Enjoying a delicious coffee on the terrace is a must. The bike shop with repair services will allow you to make necessary adjustments or purchase any sporting accessories.
The nearby Parc Lépine provides kids with play structures or the opportunity to test their abilities on a BMX bike track.
The town of Sainte-Adèle offers a wide variety of activities either browsing around the various art galleries, gazing at the exterior murals painted by local artists on the history and heritage of "Les Pays d'en Haut", enjoying a family meal or a gourmet menu out on a terrace, be hosted in a family B&B or simply allow yourself to be cajoled in a health center.
More info:
Sainte-Adèle's website →

MRC des Pays-d'en-Haut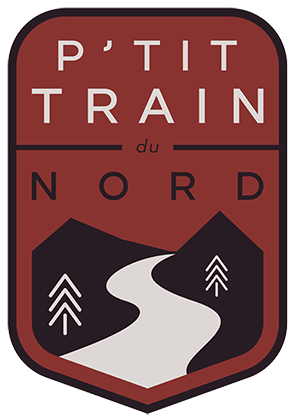 Piedmont KM 21
45.9082263 N, -74.13743734 O, Altitude: 168 meters
Either cycling or on foot, discover the Piedmont train station with its kids' playground and interior gymnasium. The multi-purpose hall annexed to the station features beautiful exhibitions of local artists.
Read more ...
From the Piedmont station, you can merge onto an urban cycling path called "Vélocité" which links the P'tit Train du Nord linear park to the Aerobic Corridor via Piedmont, St-Sauveur, and Morin-Heights. These towns are worth a detour if only for their boutiques, restaurants and heritage houses.
At the 18km mark cross the footbridge and at the heart of the Parc Du Chemin Du Pont, to take a minute to visit the "Au Fil des Saisons" (as seasons go by) photo exhibition pertaining to the features, landscapes and living space of Piedmont.
With its modern urban furniture, this park features a quiet picnic area on the banks of the Rivière du Nord.
You can gaze upon the Rivière du Nord from a number of landscaped lookouts.
More info:
Trajet-velocite.ca →
Corridor Aérobique website →

MRC des Pays-d'en-Haut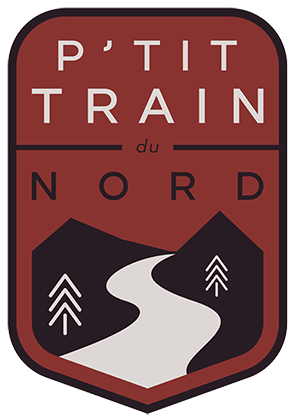 Prévost KM 14
45.87369636 N, -74.07576799 O, Altitude: 179 meters
Discover the Prévost cliffs, a landscape highlight of the Laurentians. Also the Alfred-Kelly natural reserve (1236 acres/500 hectares). The reserve escarpments are home to numerous species of birds of prey.
Read more ...
The site is open all year round for hiking along its 16 km of trails. Cross country skiing and snowshoeing are practiced all winter. The trails are entered through pedestrian access parallel to the P'tit Train du Nord linear park.
The Prévost train station is a historical building dating back 1897 and is maintained by a team of dedicated volunteers who welcome you and provide information on the history of this preserved landmark.
Nearby are numerous bistros, microbreweries, cafés, and grocery stores. The flea market near the P'tit Train du Nord in Prévost is open on weekends and will allow for a cycle pause and the opportunity for an unexpected find.
More info:
Quebecoriginal.com →
Laurentides.com  →

MRC de la Rivière-du-Nord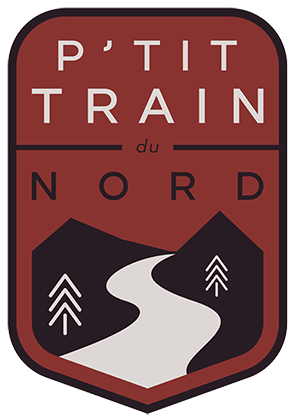 Saint-Jérôme KM 0
45.77356607 N, -73.99941355 O, Altitude: 90 meters
The 0-kilometer mark of the P'tit train du Nord is found at the place de la gare (train station) in downtown Saint-Jérôme. From this point on heading south, kilometers are identified as S for south. (Ex: KM 12 S)
Read more ...
The old station dating back 1897 is home to a tourist office. Visitors and locals alike gather on the place de la gare for numerous activities. Follow a pictorial tribute laid out on the ground representing the Rivière du Nord and the various towns linked by the P'tit train du Nord.
Numerous festivals are held on site all summer long. In downtown Saint-Jérôme you will find a multitude of restaurants, a microbrewery, a contemporary art museum, hotels, a public market and an array of shops for all your needs.
North of the city you can enjoy a picnic or relax at the park on the Rivière du Nord.
For a fee, you can access the promenade on foot or cycling. Fishing, watercraft, and camping are also available. Le P'tit Train du Nord passes alongside the Wilson falls, one of the superb sectors of the Rivière du Nord.
The town of Saint-Jérôme is the finish line of both the P'tit Train du Nord marathon and Vélo à Notre Santé, two important events on the P'tit Train du Nord.
On your way, the P'tit train du Nord runs alongside the passenger train line with an intermodal station located in Saint-Jérôme. The Montreal / Saint-Jérôme line carries many a passenger and ecotourist who travel with their bicycles in designated areas.
You can start your voyage from the Place de la Gare and board a shuttle bus with luggage and bicycles up to Mont-Laurier only to cycle back south, one day at a time, from lodge to hostel over 200km. Nice way to experience the linear park.
More info:
Tourism Laurentians →
Tourist Attractive Office →
Shuttle service →
Train times Montreal / Saint-Jérôme →

MRC de la Rivière-du-Nord