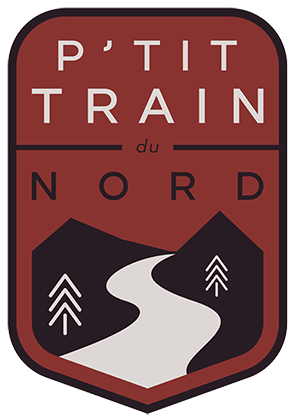 Labelle KM 107
46.2804732 N, -74.7338046525356 O, Altitude: 211 meters
The swirls of the "Italiens" rapids will accompany you to Labelle. You can then cross the Rouge River bridge where a lookout allows for a unique viewpoint on the river and it's white water sports fans.
Read more ...
The covered bridge of La Macaza, classified as a historic monument can also be seen from that vantage point.
Take five at the Labelle train station situated amongst hills and rivers. It is a meeting ground for all nature lovers and great outdoors fans. It's also the starting point of many lengthy pedestrian trails. Built in 1924, the Labelle station is one of the most beautiful of it's kind in Québec. A friendly café, microbrewery beers, a lodge, and railroad museum await.
Magnificent livestock can be seen along the pastures at km 103 and 104. Galloway belted cattle, draft horses, lambs, and their sheepdogs.
More info:
Labelle's website →
Upper Laurentians →

MRC des Laurentides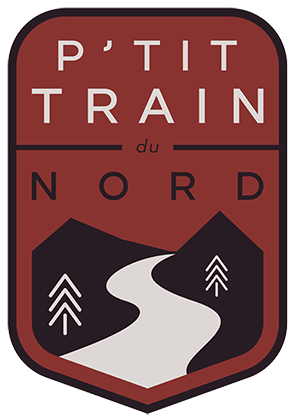 La conception KM 97
46.153675 N, -74.693298 O, Altitude: 209 meters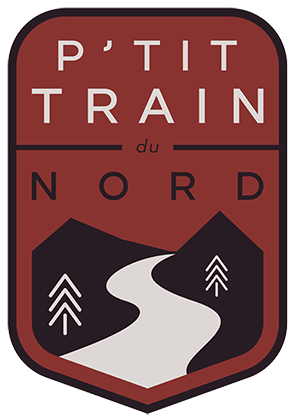 Mont-Tremblant (village) KM 92
46.1947031 N, -74.6305083 O, Altitude: 233 meters
Ride along the Mercier lake and discover the town of Mont-Tremblant also known as "Old Village".
Take a dip at the Mercier lake beach.
Read more ...
The main street is dotted with cafés, shops, restaurants, pubs, fine groceries, bakeries, deluxe boutiques, and antique stores.
A 3 km cycling path links the P'tit train du Nord with the pedestrian village of the Mont-Tremblant ski resort where an array of activities are offered.
The old village also features the "Place de la gare" where an art gallery holds residence in an exact replica of the original train station.
The old village hosts a number of activities ranging from the Ironman triathlon and other cycling events to festivals, farmer's markets and various cultural happenings.
More info :
Biking in Mont-tremblant →

MRC des Laurentides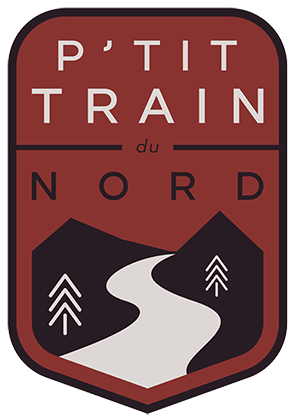 Mont-Tremblant (downtown) KM 83
46.11588 N, -74.5891426 O, Altitude: 213 meters
Before entering downtown Mont-Tremblant, you will be trekking along a superb area of golf courses punctuated with bridges and tunnels.
Read more ...
The majestic "Rivière du Diable" is a must-see along the way.
You will find all you need in downtown Mont-Tremblant including boutiques, restaurants, crêperies, and bistros that will delight you.
More info:
Biking in Mont-tremblant →

MRC des Laurentides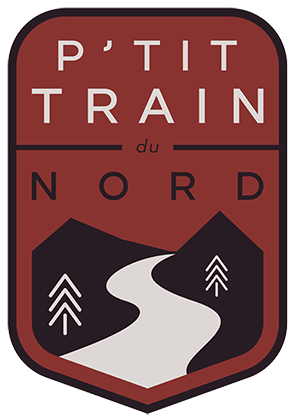 Mont-Blanc (old fish farm) KM 75
46.1137104 N, -74.5050517 O, Altitude: 279 meters
An interpretation trail of 1.8 km amidst restored wetlands.
Read more ...
Go for a hike in the wonderful trails of the fish farm. You can also pause for a picnic or grab a bite at the café-boutique and sample the delicacies of the forest.

MRC des Laurentides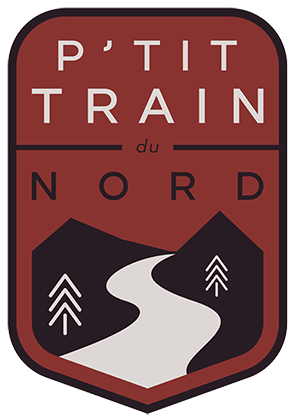 Mont-Blanc (train station) KM 70
46.13002845 N, -74.47177918208963 O, Altitude: 382 meters
Original train station classified a historic monument built in 1893. Rest area for travelers and children playground nearby.
Read more ...
You will also come across the "Tree Of Love"… So time to make a wish!
The station park is home to numerous contemporary sculptures easily seen from the surroundings.
Many "cycle friendly" lodges and restaurants will welcome you.
Take the time to revel in the sweet flavors of hop while at the Laurentian Brewing Festival alongside the trail at the end of June.
More info:
Brewery Festival →

MRC des Laurentides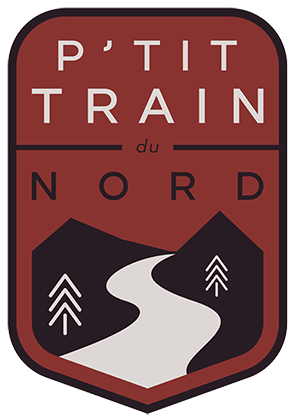 Sainte-Agathe-des-Monts KM 49
46.046072 N, -74.279938 O, Altitude: 376 meters
Take a break at the Sainte-Agathe-des-Monts train station. Built in 1902, burnt down in 2008 and rebuilt for reopening in 2010.
Read more ...
A tourist office provides information on Saint-Agathe and surroundings. A small museum of local history has been open since 2005.
More info:
Sainte-Agathe's website →

MRC des Laurentides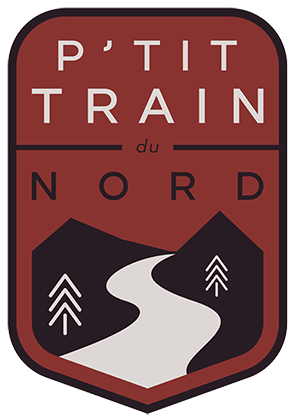 Val-David KM 42
46.0282815 N, -74.2065632 O, Altitude: 314 meters
The train station is home to a tourist office and traveling exhibitions.
Read more ...
Facing the Rivière du Nord along the Rue de L'Église, lodges, restaurants, gourmet cafés and a microbrewery await to satisfy your appetite.
Artists and craftsmen are ideally located near the trail and so is the famous ceramic and pottery exhibition featured in the summer.
Alongside the Rivière du Nord you will come across the gardens of a traditional herbalist shop where teas and tisanes can be sampled in July and August. Go ahead and visit the gardens!
To enhance your discovery experience you can canoe down the river and cycle back to your starting point.
A summer Saturday morning is a perfect time to stroll the public market adjacent to the trail.
Numerous festivities and sporting events are organized in the train station's vicinity. It is also the starting point of the P'tit train du Nord marathon.
More info:
Val-David's website →

MRC des Laurentides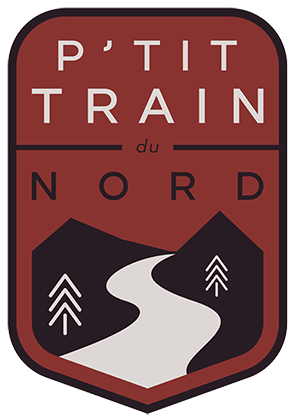 Val-Morin KM 39
46.0069891 N, -74.1877334 O, Altitude: 310 meters
Magnificent Lake Raymond and its beach are preferred recreational areas. The small train station radiates a magical ambiance. Restauration and rest areas are nearby and so is the starting point of the inter-village pedestrian path.
Read more ...
Not challenging enough? Your heart isn't getting much of a workout on the soft inclines of the P'tit train du Nord? Try the Gilles-Leroux trail, a 1km offshoot of the linear park situated 500m north of the little train station in Val-Morin. This trail links the linear park and downtown Val-Morin near the Marais theatre. Featuring a steep 30m ascent followed by its downhill equivalent.
Downtown Val-Morin features a grocery store, a theatre and an exhibition center.
More info:
Parmontsetvals.com

MRC des Laurentides