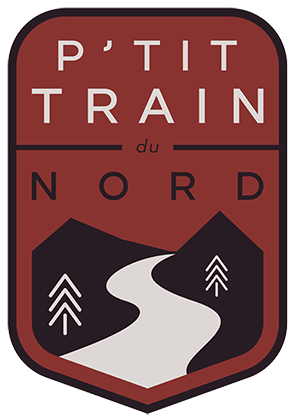 Mirabel KM 10 (south)
45.623402 N, -74.012489 O, Altitude: 53 meters
Field after field, nice straight lines await. Experience the bucolic landscape of corn and vegetable fields.
Read more ...
If you know where to look you will find a benevolent Inukshuk.
Many users practice rollerblading or jogging. And younger biking apprentices come to gain experience.
You can then appreciate how fabulous the skies turn above the prairies.
More info :
Basseslaurentides.com →
Laurentides.com  →
Quebecoriginal.com →

Ville de Mirabel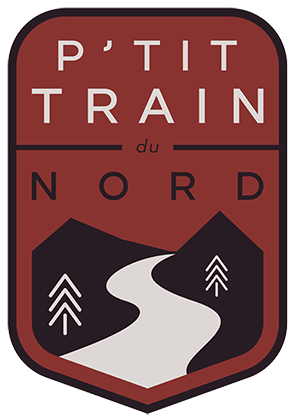 Blainville KM 17 (south)
45.67932 N, -73.87619 O, Altitude: 68 meters
Along this section, you will come across numerous parks and rest areas with nice amenities. The P'tit Train du Nord crosses local cycling trails which ensures easy access to our network.
Read more ...
Keep an eye on the urban art surrounding the trail. Sculptures, photos, exhibition trails, and pavement art will enchant you.
Nearby stands the superb LEED certified Paul-Mercier library recipient of many awards for its architectural design. Situated on the Chemin Plan-Bouchard its sight commands a visit.
Passenger trains from either Montreal or Sain-Jérôme make a stop in Blainville a few steps away from the P'tit train du Nord. The commuter train station platform of Blainville caters to amateurs of active transportation.
More info :
Site web de Blainville →
Basselaurentides.com →
Laurentides.com →
Quebecoriginal.com →
Exo.quebec →

MRC Thérèse-de-Blainville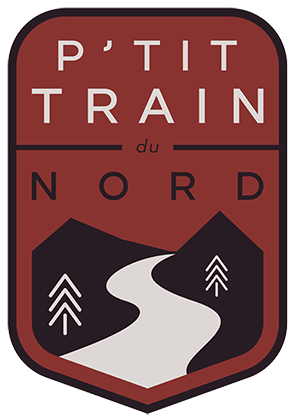 Bois-des-filion KM 32 (south)
45.6713243 N, -73.7562419 O, Altitude: 28 meters
Here lies the most southerly sector of the P'tit Train du Nord linear park next to the large cities of Laval and Montreal.
Read more ...
It's also a section of the Route Verte 2 and of the Great Trail (Trans Canada Trail). The Route Verte is a cycling itinerary of more than 5 300 km situated in Québec whereas the Great Trail spans over 24 000 km all across Canada. The P'tit Train du Nord is a section of these two great outdoors routes. You will see identification panels of these two partners from Bois-des-Filion all the way to Mont-Laurier. At every kilometer, kilometric markers to the P'tit Train du Nord logo will situate your location along the way.
You will realize that Bois-des-Filion is a more urban zone with landscaped trail but you will nonetheless ride through relaxing green areas.
You will be enchanted by the Parc Riverain du Domaine Garth with its fitted walkways overlooking the Rivière aux Chiens.
More info :
Basseslaurentides.com →
Laurentides.com →
Quebecoriginal.com →
Carto.routeverte.com →
Thegreattrail.ca →

MRC Thérèse-de-Blainville