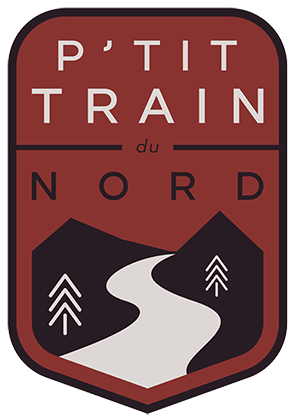 Mont-Laurier
46.5523631 N, -75.497393 O, Altitude: 229 meters
At the start or at the conclusion of your adventure:
It is the starting point of the bikes brought in by the P'tit train du Nord buses at the heritage train station of Mont-Laurier.
Read more ...
Discover the handicraft shops: microbrewery, honey house, and Mont-Laurier cheese plant.
A picture in front of the traditional "KM 200" of the Mont-Laurier train station is a must either departing or arriving. Do not resist the Café De La Gare, a voluntary contributions restaurant with a complete menu. A combination of fine cuisine and cheerful encounters with the local community.
Travel back in time by consulting up to 47 interpretation panels on the history of the North sector.
The sector ranging from Mont-Laurier to La Macaza is asphalted over 88 km.
To learn more about accommodations, regional flavors, activities, and history:
Upper Laurentians →

MRC Antoine-Labelle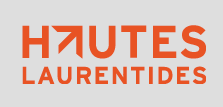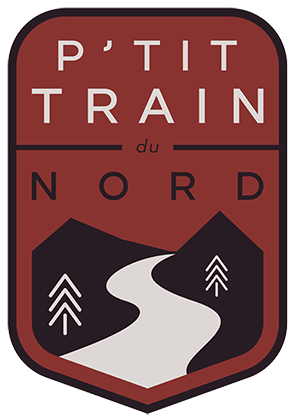 LAC-DES-ÉCORCES (val-barrette) KM 188
46.5565 N, -75.364838 O, Altitude: 234 meters
A quick bite to eat? Sector Lac Barrette (km187), convenience store and fast food.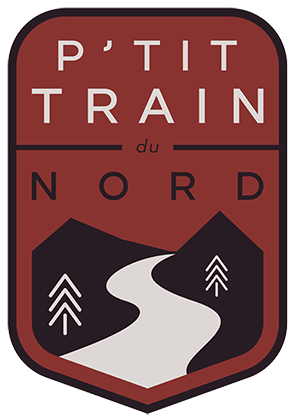 LAC-DES-ÉCORCES (Beaux-rivage) KM 174
46.5114857 N, -75.3724661 O, Altitude: 240 meters
Try a stop at the belvedere (km174). You will find the "Fer à cheval" (horseshoe) where nature thrives over magnificent peatland.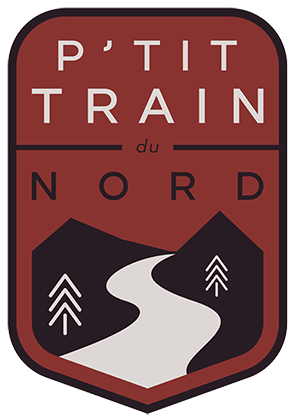 LAC-saguay KM 163
46.496502 N, -75.1426952 O, Altitude: 323 meters
Take the time to unwind after several kilometers of biking and enjoy the Boisé Joseph BB-Gauthier. The starting point of the path is at km 164,6 off of the P'tit train du Nord trail.
Read more ...
It'll take you through a mixed forest and a trout river. It leads to a belvedere from where the Saguay river can be seen.
Interpretation panels tell all about the flora. Rustic camping areas are present as well as easy hiking trails of 1 or 2 km.
For more info:
Balise Québec →
Visit Lac Saguay and nearby town, a motel and inn on the lake, restaurant, public beach and the landmark sculpture of the "Grand six pieds ("Six Foot Tall") at the rest area.
Let yourself be enthralled by the Fantastic Tales Circuit.
More info:
Lac Saguay's website →

MRC Antoine-Labelle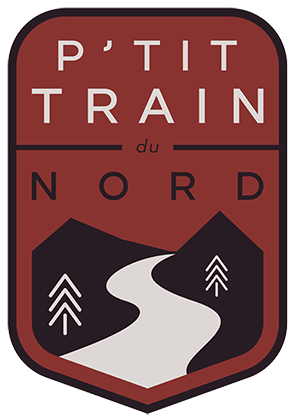 Nominingue KM 146
46.3938122 N, -75.0295392 O, Altitude: 252 meters
Make sure to include the town of Nominingue ("red land" or "land where we go back to" in the Algonquin language) in your adventure. You will be impressed by the place's dynamism.
Read more ...
See the craftsmen of the old station, the town's public market open on Fridays and Saturdays, it's festival of the "Grande Traite", a meeting ground for Jacks of all trades and storytellers that lasts until the end of July.
Nominingue is also known for its great natural features, its majestic lake, municipal beach and campgrounds in natural settings. Well located lodges and hostels are renowned for their culinary treats and welcoming staff. Sunsets over the grand Nominingue Lake are a sight to behold.
Treat yourself to the indigenous and even comestible flora alongside the interpretation trail.
For even more inspiration for your adventure:
Nominingue's website→
Upper Laurentians →

MRC Antoine-Labelle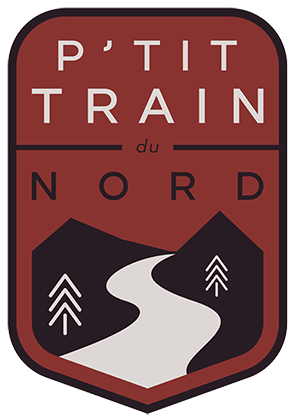 Rivière-rouge (Marchand) KM 134
46.379625 N, -74.853432 O, Altitude: 245 meters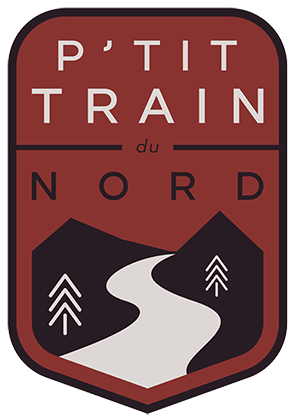 Rivière-rouge (L'annonciation) KM 129
46.409931 N, -74.870796 O, Altitude: 253 meters
Slow down upon arriving at the L'Annonciation train station and visit this site built in 1903. It houses a tourist office with beautiful exhibitions. Kids can cool down in the adjacent water play area.
Read more ...
Explore the river and its sandy beaches. Numerous nautical activities are available for you to escape on the beautiful Rouge river.
Behold!
L'Oie-Zoo was set up in a marshland in the heart of town alongside the P'tit train du Nord linear park. Observation kiosks allow for a closer look at snow geese and Canada geese amongst others, who find refuge in this natural habitat.
More info:
Red hare road →
Pause overnight and take a well-deserved break from your itinerary in one of the many campgrounds situated along the river.
More info:
Upper Laurentians→

MRC Antoine-Labelle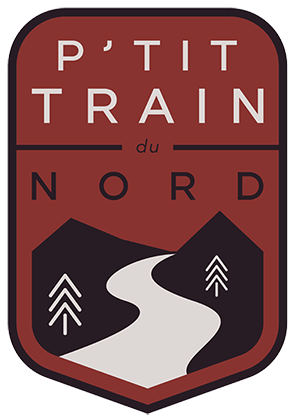 La MACAZA KM 117
46.353890110252124 N, -74.77902444908825 O, Altitude: 251 mètres
At km 117.5, pause at the bike stop. This mobile rest area is a renowned historical place of La Macaza. As part of the municipality's colonization occurred with the arrival of immigrants who rode on the famous Train du Nord and got off at La Macaza Station.
At the time, the station was located on the site of the mobile rest area where we find the "Train de vie" sculpture which pays tribute to immigrants.
Read more...
From this location, you will be able to admire the Municipality of La Macaza's stunning covered bridge.
A few meters away, you will cross the Rouge River and its sand banks. An ideal place to relax during your bike ride.