Sainte-Adèle, May 23, 2020
Opening of the Linear Park: May 23rd, 2020

From May 23rd opening of the entire Le P'tit Train du Nord Linear Park!

Before starting your season on Le P'tit Train du Nord, visit ptittraindunord.com/en
Le P'tit Train du Nord linear park is now ready for its official grand opening. Thanks to the collaboration of our partners, specifically the cities and RCMs, the complete 234 kilometers of Le P'tit Train du Nord's is ready to welcome path users.
This summer will be special in many ways and will bring its lot of local visitors. Seasoned cyclists will have to share the cycle path with families and beginners. Path users will have to adapt outings accordingly and be tolerant.
Many local residents will also discover, for the first time, this welcomed treasure that allows cyclists to travel from village to village.  This will be a summer of discovery. Holidays and vacations will be transformed into more intimate family outings, nearby picnics, into day trips and explorations of the area and surroundings. Active commuting, to visit and discover local businesses, will gain in popularity.
Cycling will become a bonus to local businesses and to buying local. Some residents have chosen to cycle to go to work, a daily activity that has become a sure way to get some fresh air and to stay active. Both for leisure and as a means of transportation, we should expect to see more and more cyclists riding Le P'tit Train du Nord this summer. This is great news for all of us!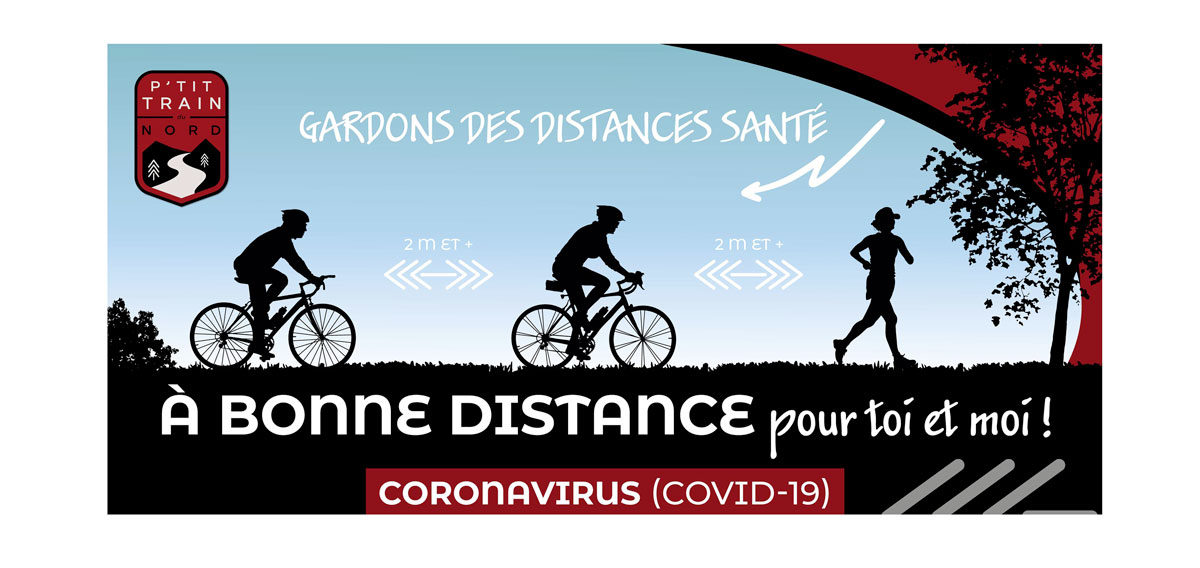 Here is a reminder of some of the safety measures and instructions in effect:
Respect a 2-meter distance between users;



Follow up with the Québec government's

rules and regulations relating to travelling from one region to another and from one city to another

and to the tourism reopening plan;


Before leaving for an outing, make sure to check which services are opened or closed. Le P'tit Train du Nord's restrooms (toilets) are currently closed and nearby services are restricted to reduce the risk of spreading COVID-19. We are keeping up with the government instructions as to the reopening of sanitary buildings;
Avoid unnecessary surprises and plan in advance by bringing personal, sanitary supplies as well as a supply of water.

Consult the ptittraindunord.com/en site for COVID-19 related instructions: Important-Covid-19 Instructions 
Also, before planning an excursion, it is important to consult our planned work link, as improvements are planned for this season.
Cycling and walking have become options during this period of deconfinement. Outdoor lovers will escape on the trail. Hiking on Le P'tit Train du Nord path is an invigorating experience that combines discovery and fun to physical activity.
Tourism will resume its activities shortly, and with this reopening, we will feel a strong desire to explore and discover neighboring villages, our region and travel locally.
– 30 –
Source: Le P'tit Train du Nord linear park
450 745-0185 info@traindunord.com
Photo credits: Le P'tit Train du Nord Linear Park