IMPORTANT : TRAIL CLOSED FROM KM 150 TO KM 160.
Due to a landslide caused by the heavy rains of the last few weeks, the trail will be closed on this section for an undetermined time.
The teams are working to find alternative solutions.
Thank you for your understanding and cooperation.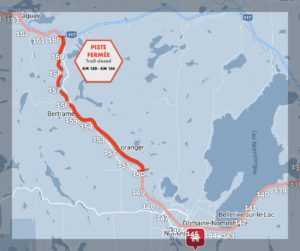 During your visit, it is important to respect the rules of the P'tit Train du Nord:
Smile and courtesy are required. 😃
FOR THE BIKE :
The recommended speed is 22 km/h and 10 km/h maximum when approaching urban areas;
Ride in line when you are in a group;
Please announce your passing! Dring, dring!
Ride on the right and pass on the left;
Wearing a helmet is recommended, you have such a beautiful head!
FOR WALKING AND RUNNING :
Ride on the side of the trail in the same direction as the cyclists (on the right side of the trail) and always ride in line to give way to bikes.
Your pet is not allowed on the trail for their safety and that of other users
To hear the bikes, it is important to listen actively to the ambient noise. Avoid headphones.
Have a good season! ☀️