Update, Monday, May 17, 2021
ATTENTION MAY 18 AND 19 AT LABELLE
The cars will travel 150 m on the track at Labelle. There will be traffic lights to travel alternately in one direction and the other.
IMPORTANT: Track users must obey traffic lights.
There will be a light and traffic alternating with cars for 150 m.Note that there will be a complete obstruction on the Route verte from May 17 to June 4 inclusive. A detour path will be deployed on rue de la Sentinelle and boulevard Céloron (see the sketch below).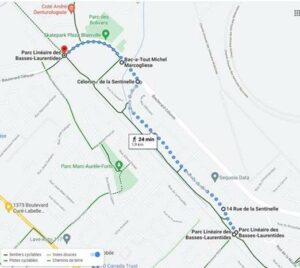 OFFICIAL OPENING OF THE MULTIFUNCTIONAL TRACK ON MAY 7, 2021
To read the press release, click here
Code of conduct to be observed:
22km / h maximum,
Always ANNOUNCE your overruns
Please remain courteous
Dogs are not allowed except assistance dogs
Thank you for your collaboration.☀️
always ANNOUNCE overtaking and COURTESY is requested on the trail.
Thank you for your cooperation.